Expat Law Group is excited to share some good news with you regarding recent law changes that have decreased the price of residency visas for expats thinking of making Ecuador their home.
New government fees for temporary residency visas
Previously, the government fee for a temporary residency visa was $450. However, with the recent law change, this fee has been reduced to $270, representing a significant cost saving for expats.
Furthermore, the government fee for temporary residency visas for those over 65 has decreased from $225 to $135. This makes it even more affordable for retirees seeking to make Ecuador their home.
Permanent residency fees reduced to $225
Permanent residency visas have also descreased from $500 to less than half the cost at $225.
Tourist visa fees also reduced
In addition to these changes, the government has reduced the fee for tourist visas to just $30.
Updated visa price list
The updated price list can be seen in this Ministerial Agreement (price list on page 7), but we've also provided the prices in the below image: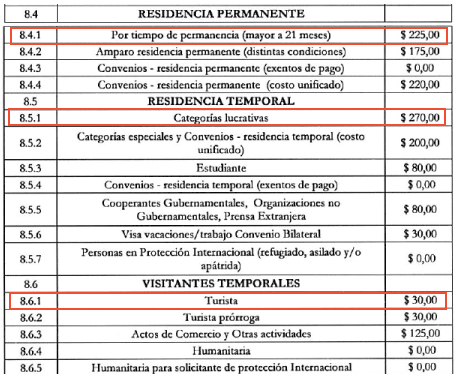 Who benefits from these reduced visa fees?
The benefits of this law change are numerous. First and perhaps the most obvious, it will provide a significant cost saving for expats seeking to live in Ecuador. This decrease in fees will allow them to put their money towards other important expenses, such as housing and healthcare. This law change should also make Ecuador even more attractive to expats, which should also have a positive impact on the local economy. More expats moving to Ecuador will bring in new ideas, skills, and resources, which can help boost the economy in various ways.
When do these changes come into effect?
Our sources from the Ministerio de Relaciones Exteriores y Movilidad Humana have indicated these prices will come into effect from Monday 3rd April, 2023.
What our clients can expect
We will be updating our clients on this law change and working closely with them to ensure they are aware of the new fees and the steps they need to take to secure their residency visas. Our goal is to provide our clients with the information and support they need to make a smooth transition to living in Ecuador.
We are thrilled about the recent law change that has decreased the price of residency visas for expats in Ecuador. This is excellent news for those seeking to make this beautiful country their home, and we believe it will have a positive impact on the Ecuadorian economy.
Need assistance applying for your temporary residency visa?
If you are an expat seeking assistance with your visa needs, we are here to help. Contact us today to learn more about our services and how we can assist you in securing your residency visa in Ecuador. We have experts based in Quito & Cuenca, but can service all of Ecuador.